Social Marketing Campaigns
There is no doubt the power of social media and social marketing can have an impact on how we make purchasing decisions and browse the internet. At noptim, we take our responsibility to social marketing seriously, including how we collect information to create marketable audiences, how messages are created, the method of delivery, and finally statistical evaluation to improve performance.

Privacy in social marketing
Trust is always at the forefront of who we are as an agency. We require every site we represent to have an up to date privacy statement — including consent to site usage integrations in order to collect information from users. Our intent is to develop marketing strategies that are centered around collecting only the information needed to promote our brands, enhance user experience, and make progress daily in an effort to achieve goals. We will not represent a company that uses or intends to use data in an unethical or intentionally misleading way. We make it a habit to understand the companies we represent in order to make sure no claim in advertising is misrepresented or overstated.

Creating social messages
Creating ads and messages for social platforms is likely the most important aspect of social marketing. Once a deliverable audience has been identified, creating a message that speaks to them personally is critical to ad success. Ads must be creative in order to attract attention, placed on the right platform to be seen by the target audience, and transparent in what is presented to encourage engagement.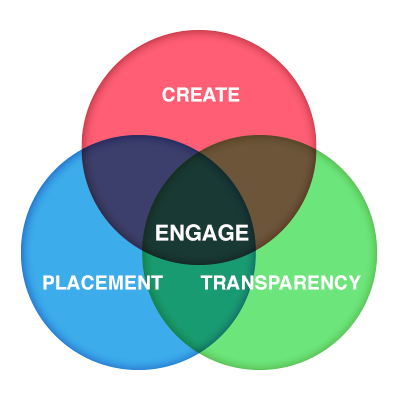 This graphic illustrates three symmetrical circles — as each works in unison to build trust and brand recognition.

Social marketing message delivery
Understanding a business and their marketing goals is the first step to social ad delivery. Generally, a business owner understands who they are targeting, including (but not limited to) demographics such as age, income, geographic location, or type of work. Creating an audience might begin here and often gets refined with a/b testing of ads and segmented delivery. The best and most effective way is to track site activity and user engagement over a period of time to understand the demographic and user interests. Tracking may be done through Google properties, Facebook Pixel, or Hotjar to name a few. Data gleaned from any third-party site integration should be clearly stated in the site's privacy statement. Audiences develop over time, as do a company's creative properties like written and video ads — which is why hiring an agency that takes the time to understand your business is important to reducing ad spend as marketing plans are dialed in.

Evaluating data in social marketing
If you're not looking at metrics, you're likely wasting ad spends. Evaluation is an ongoing aspect of any campaign and should be done regularly, allowing you to dial in your audience and adjust content to increase engagement and improve performance. Milestones along the way should be measured from simple engagement to conversions. Whether your goals are site traffic, social media engagement, email subscriptions, information requests, or ecommerce conversions — data will help you make wise decisions and progress your brand to the next level.
Though we have only touched on a few facets of social marketing, you should know it is a powerful tool that if used properly can propel a business to new levels of success. Like any campaign you should never expect instant results as constant campaign refinement is needed to focus and drill down to your target audience. Progress only happens with hard work and staying committed to your business values and goals — noptim is here to help.